マラウイにリサイクル柔道衣が到着!
2017年06月12日
2016年11月、JICA「世界の笑顔のために」プロジェクトの支援の下、リサイクル柔道衣17着をマラウイに送付しました。その柔道衣が2017年4月にマラウイの何部の都市ブランタイヤに到着。現地で青年海外協力隊として活動を行っている隊員を通し贈呈されました。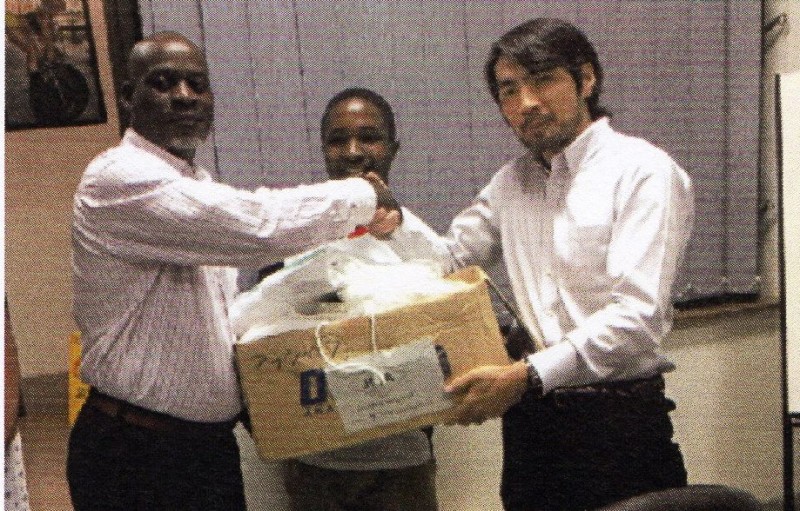 お礼状と現地の様子が送られてきました。紹介いたします。
* * * * * * 
寄贈先からのお礼(和訳)
ブランタイヤ柔道クラブコーチ
Chikindi KatheWela
柔道着を寄贈いただきありがとうございます。私達のこれまでの活動と、今後の目標を説明させてください。マラウイ大学薬学部ハイパフォーマンスセンターは、20歳以下の柔道、ボクシング、テニスなどのアスリートを育成するためにできた施設です。私たちはアフリカスポーツ協会の下、直近ではアンゴラで開催された試合で5つの銅メダルを獲得しました。(※詳細は原文を参照ください) 私達の活動が 認知され、のような寄贈にいたったことについて皆さんに感謝しています。選手は仕事や学業を掛持ちしていますが、東京オリンピック出場を目標にメンバー全員を励ますことにもなると思います。
THANK YOU FOR THEDONATION OF JUDO UNIFORMSTOHPC
There by Writing this letter to thank you and also to say thankstojica for this donation to malawi judo athletes. Infact just want to blief you the small history about what we have done and previesely and what we are looking for to achived in future with this programe of high.One the HPC on the 27th of June 2015 The College of Medicine High Performance Centre held trials for Athletics, Boxing, Judo and Tennis to select a team of u20 athletes for African Union Sports Council Region Five games in Angola in 2016. Fifty Eight Athletes were selected for the provisional squad to train with the COM-HPC for eighteen months. Through the trials we chose 7 Judo athletes from the Police Training School Judo Club, two female, three males and two juniors On the 22" of August 2015 we held our first local competition; our Judo athletes won four out of seven bouts, with Podium Performance judoka Brenda Williams defeating a male athlete, without a Judo coach. Eight out of thirteen races were won by the Podium Performance Athletes.
The College of Medicine High Performance Centre (COM-HPC) had its 2nd preparation event on the 31st of October 2015 for the African Union Sports Council (AUSC) under20 games to be held in Angola 2016. 7 Judo athletes came down from Lilongwe to provide our athletes with a bit more Competition then they were used to. They showed great attitudes and professionalism, as a result we invited them to join the club. Five out of the seven stayed in Blantyre.
On the 2nd of March the Podium Performance Athletes travelled to Zimbabwe to participate in the Mashona land provincial competition. The Judo athletes competed on the 3" of March 2016 with Esther Mollen and Chikondi Kathewera all receiving silver medals both were ustandoutperformers only losing out due to fatigue in the gold medal match. Vera Benjamin only had one fight and produced the best performance on the day receiving gold. Martin Kuphricame back to take the bronze medal match after underperforming in his semi-final match.
The College of Medicine High Performance Centre (COM-HPC) had its last local preparation event on the 28th of May 2016 for the African Union Sports Council (AUSC) under20 games to be held in Angola 2016.3Judo male athletes came down from Lilongwe. The Police Training School Judo Club provided us with 9 more male competitors to compete with four of our athletes. They also provided us with a single female competitor. The girls competed in around robin format while the boys competed in a knockout format. Jean Mwangonde and Vella Benjamin our athletes competed for the gold medal having won 3 bouts each. Vella proved to be too strong for Jean and took gold. Chikondi Kathewera met Taufik Kiwalaa Lilongwe based athletes in the final, with Chikonditaking the gold.
On the 5th of December the HPC in collaboration with Malawi National Council of Sports took 40 athletes to Angola for the African Union Sports Council Region 5 games. The athletes had been training with the COMHPC for eighteen months, with each athlete competing in at least 3 local Competitions and one international Competition in preparation of the tournament. Judo athletes where first to compete, on day one of both events saw some mixed performances, the judo athletes did not perform as expected, losing most of their bouts. Esther Mollen was the only shining light for what proved to be a tough day, brining winning the bronze, this was all attributed to anxiety and anxiousness. We overcome this one day two, the team competition through positive arthimation. The team came back home with bronze medal in the team competition beating the favourites South Africa in the process
Judo:5Bronze (Esther Mollen 2, Brenda Williams, Chikondi Kathewera, Martin Kuphiri)
We are Appreciative that someone saw the hard work that we put into the programme so much they thought that we deserved uniforms. Many of the athletes have moven on with school and work but we hope that he donations will motivate them to continute this journey as we look at Tokoyo 2020
Your's faithful Chikondi kathewela....

リンべ警察学校道場コーチ
Fabian Phiri
皆さんが提供してくださった柔道着に大変感謝しています。ここには多くの柔道選手がおり、道着を必要としている時に寄贈を受けることが出来ました。この柔道着によってより柔道家がさらに増えることを期待しています。また、このようなサポートを私たちは必要としており、 今後もより柔道を発展させていきたいのでご支援のほどよろしくお願いいたします。
thank you very much for the judogiyou have given us. This donation has come at a time when our dojo is in need of more judogisince we have a lot of judo players here. Therefore this donation will increase judo participation whereby increasing the number of players. Such donations are needed here in Malawi for judo to develop so keep on assisting us.
Yours, faithfully
Fabian Phiri.