東北・関東大震災へのお見舞いメッセージ
2011年04月01日
3月11日(金)、日本で観測史上最大の東北・関東大震災が発生いたしました。
この震災で多くの尊い命が失われたことに対し、衷心より哀悼の意を表します。
また、被災された方々に対し、心よりお見舞いを申し上げます。
NPO法人柔道教育ソリダリティー事務局
◇ ◇ ◇ ◇ ◇ ◇ ◇ ◇ ◇ ◇ ◇ ◇ ◇ ◇ ◇ ◇ ◇ ◇
平素、本NPO法人を支えてくださっている皆様に、海外からたくさんのお見舞いメッセージが届きました。
私たちは皆さんから寄せらたメッセージを読んで、世界にいる柔道仲間との『絆』を感じました。
ここに一部御紹介させていただきます。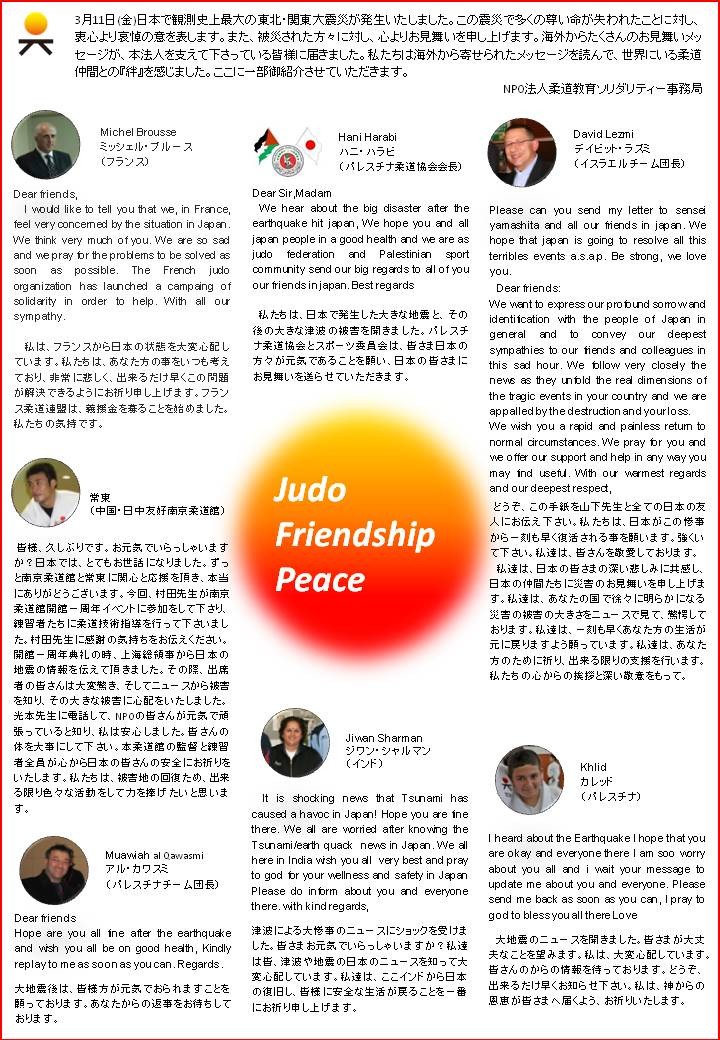 ■フランスのMichel Brusse氏から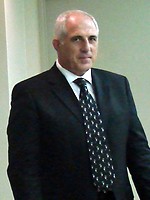 Dear friends,
I would like to tell you that we, in France, feel very concerned by the situation in Japan.
We think very much of you.
We are so sad and we pray for the problems to be solved as soon as possible.
The French judo organization has launched a campaing of solidarity in order to help.
With all our sympathy,
Michel Brousse
■中国南京友好柔道館 常 東さんから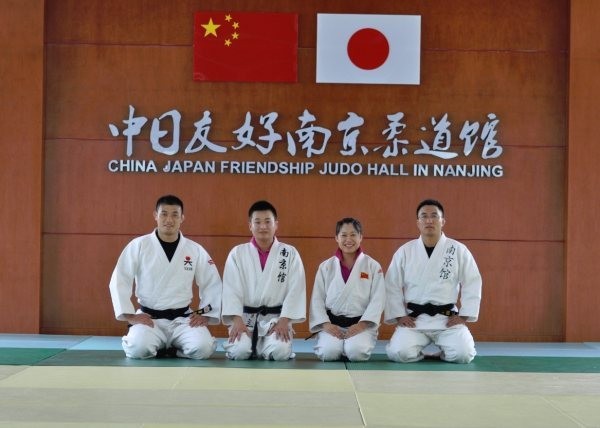 皆様、久しぶりです みんなお元気ですか
いつもお世話になりました。
ずっと南京柔道館と常東に関心と応援をしていただき、本当にありがどうございます.
今回、村田先生が南京柔道館開館一周年イベントを参加し、練習者たちに柔道技術指導を行いました。
村田先生に感謝の気持ちを伝えてください。
開館一周年典礼の時、上海総領事から地震の情報を伝えてもらいました。
その時、出席者皆さんは驚き、次にニースから被害を知り、本当に大災害でした。
心配しつつ、光本先生に電話して、NPOの皆さんが元気で頑張っていると知り、
私が安心しておりました。皆さんがからだを大事にしてください。
本柔道館の監督と練習者全員がこころから日本の皆さんの安全祈りを申し上げます。
また、被害地の回復ため、できる限りいろいろな活動をして、力を捧げます。
常东
■中国青島友好柔道館 徐殿平先生、時 峰さん、王華さんより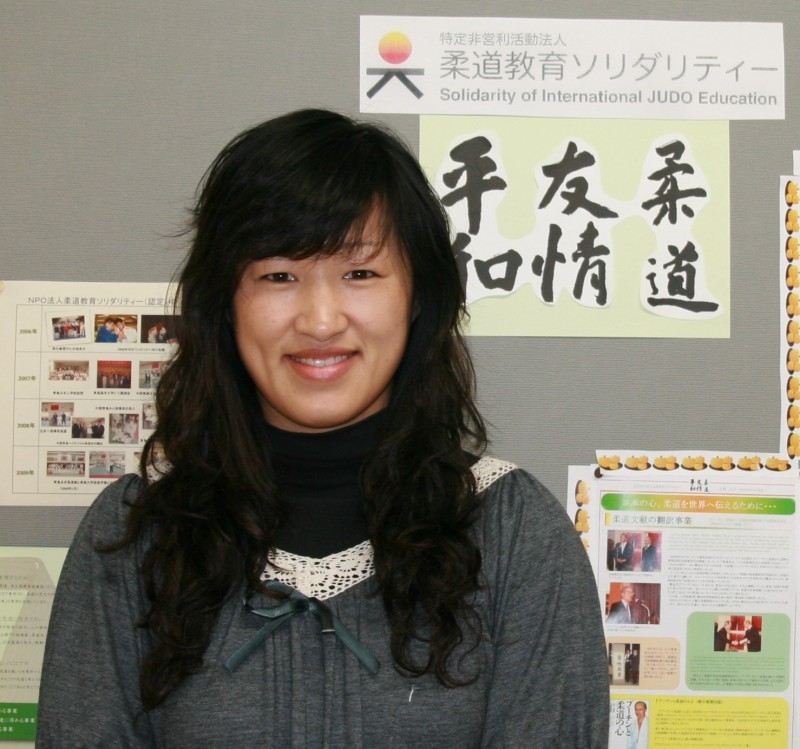 日本の地震が発生した情報を中国で放送され、中国全国の柔道関係者から問い合わせが山ほど、
日中友好青島柔道館に来ました。徐先生や、王華、もちろん
私はNPO法人の皆さんのことがすごく心配し、電話など通じないですので、メールさせていただきます。

日中友好青島柔道館、青島柔道協会のみんなさんは皆さんの安全無事することを心から祈っております。

日本の再建を期待しております、協力させていただけることがありましたら、教えてください。

全力尽くさせていただきます。
■パレスティナ柔道協会会長 Hani Harabi氏より

Dear Sir,Madam
We hear about the big disaster after the earthquake hit japan,
We hope you and all japan people in a good health
and we are as judo federation and Palestinian sport community
send our big regards to all of you our friends in japan
Best regards

■12月に来日したMuawiah al Qawasmiパレスティナチーム団長から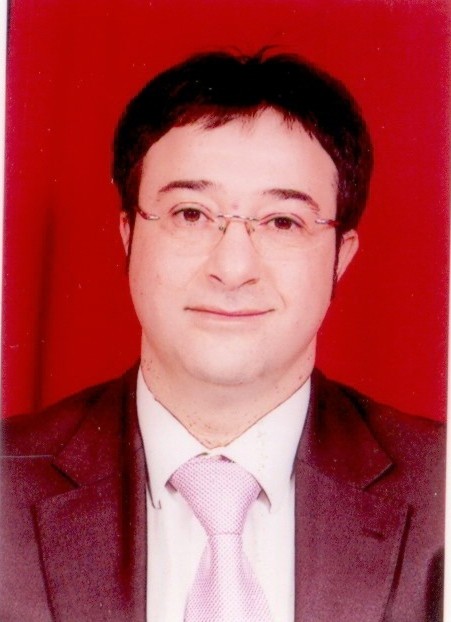 Dear friends
Hope are you all fine after the earthquake and wish you all be on good health,
Kindly replay to me as soon as you can
Regards
■12月に来日したDavid Lezmi イスラエルチーム団長より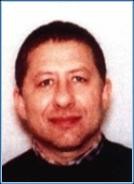 Please can you send my letter to sensei yamashita and all our friends in japan
We hope that japan is going to resolve all this terribles events a.s.a.p
Be stong , we love you
■インドJiwan Sharmanさんから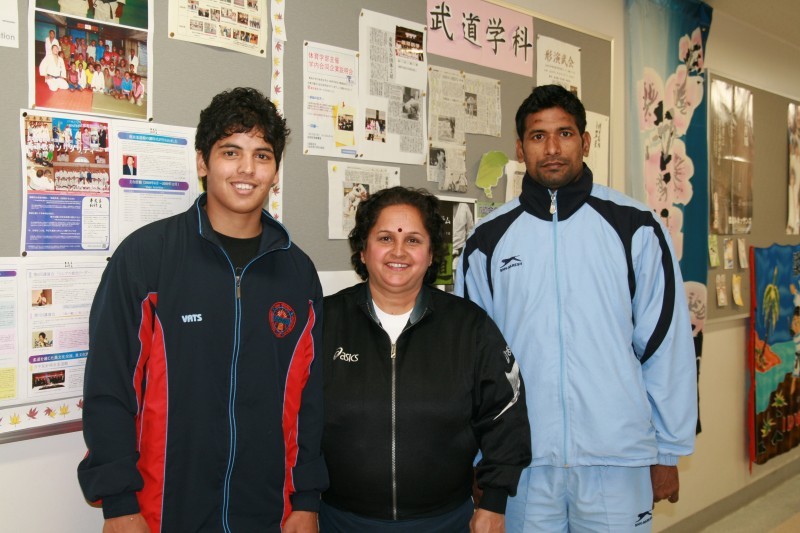 It is shocking news that Tsunami has caused a havoc in Japan!

Hope you are fine there. We all are wooried after knowing
the Tsunami/earth quack news in Japan.
We all here in India wish you all very best and pray to god
for your wellness and safety in Japan

Please do inform about you and everyone there.
with kind regards,
■南アフリカの Nicoから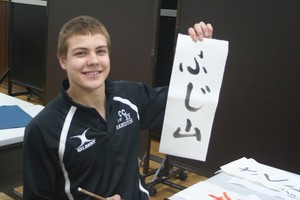 Hi everyone!! Saw the tsunami on the news...I hope you all are ok!
■12月に来日したパレスティナのKhlid君から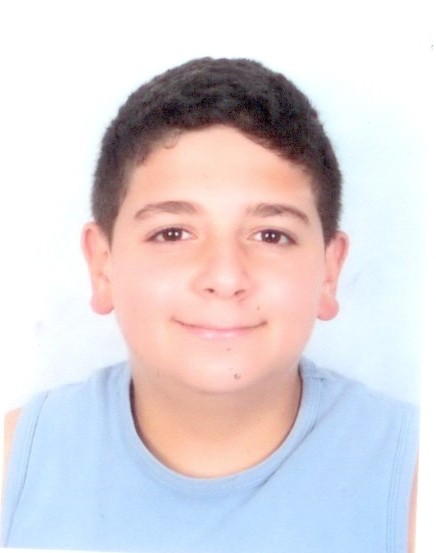 Dear my friends,
I heard about the Earthquake i hope that you are okay and everyone there
I am soo worry about you all and i wait your message to
update me about you and everyone.
Please send me back as soon as you can,,
I pray to god to bless you all there Love
■中国柔道協会から
Dear our friends,
How are you!
We deeply worried about all of you our friends in Japan,
as Judo and its spirit linked our heart together especially at this moment,
and China also suffered much by earthquake in recent years.
Should you need any help, please feel free to let us know.
Hope everything is going fine with you and them!!! God bless our friends!!!
Best regards,
■ロシア柔道協会から
Dear Friends,
We all shocked with recent disaster in Japan.
We sincerely hope that you and all your relatives and friends are not harmed.
We express our support although we know that Japanese is a very strong nation
and nothing can break your spirit and will.
Best regards,
■グルジア柔道協会から
May I express my deep condolences for the dead people and
to their families who died from the natural disaster in Japan!
We, the Georgian Judo Federation and myself always stay by you
in any difficult situation and hope all will be fine soon!

If there is anything we can do in this situation please feel free to let us know.
With all the best and good hopes,
■ベルギー柔道金メダリストRobert Van de Wall氏より
We heard about the breathtaking news in Japan.
Trust our thoughts are with you, your family and friends
who have to endure this terrible situation.
Can we do anything to help you?
Do you know any Japanese judo people who want to come
and stay in Belgium for a while?
Please let us know if we can be of any assistance to you.
Hope to hear from you.
Kind regards,
Robert Van de Walle
■デンマーク アマガー柔道クラブから
Here in Amager Judo School we are all shocked by the sad news from Japan
about the earth quake and tsunamis.
We sincerely hope all our judo friends in Japan as well as their loved ones are unharmed.
Hearing the earth quake happened near Miyagi prefecture,
We are especially worried about Mr. Terasawa and the nice people
from Toyosato Judo Club who have been very hospitable to us in the past.
Our thoughts go out to all of the Japanese people,
in hope that not too many lives are lost in this horrific disaster.

Sincerely,

Thor, Henrik and
Everyone at Amager Judo School
Denmark
■ガーナのエマニュエル君から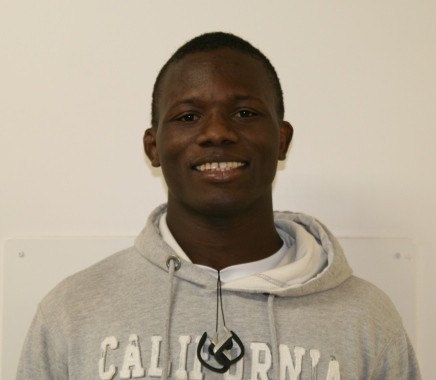 Dear my NPO friends,
hope you are ok! Let me how you doing and how's is everything going on out ther!
Emmanuel xx
■スイスのJulietteから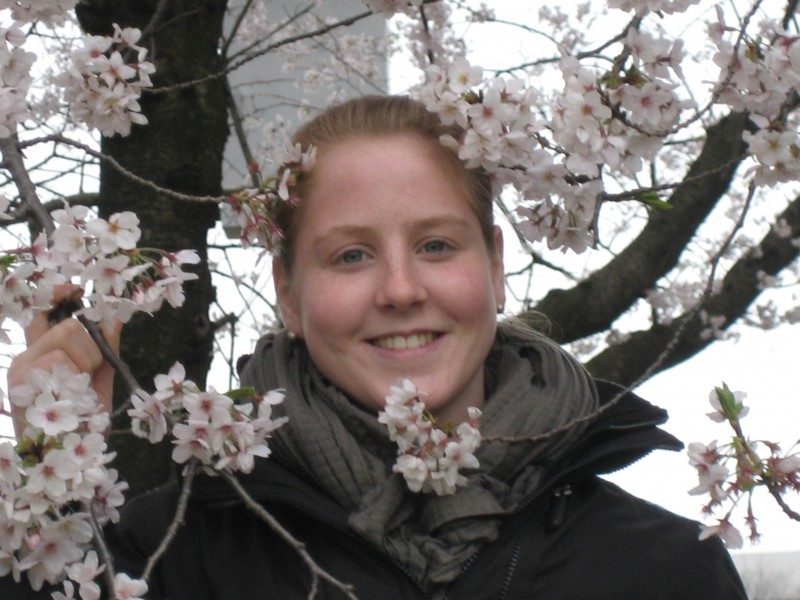 Dear Friends,
We are deeply touched what happened to your country and
hope very much, that you, your family and friends are well.
Please receive our good thoughts and hope
Juliette
■南アフリカのJacque君から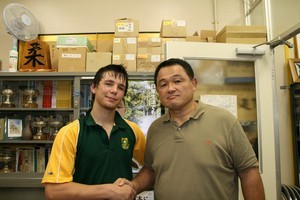 Just wanted to say i'm very sorry to hear what has happened!
My thoughts and prayers are with you and everyone in Japan!
Please send my love and regards to everyone..!
Love Jacques
■デンマークのTommy Motessenyより
I really hope that you are fine and non of your family and friends
got heart theese difficult days in Japan!
If anybody wants to stay in Denmark for a while - just let me know!

All my best wishes to you!

Best regards Tommy
■スイスのGeorgetteさんから
I'm just speechless what happened in Japan... and it's not over yet,
it's getting worser each day....unbelievable!!!
I hope people in japan have enough power to go through it!
I think a lot at you and other friends in Japan and
I wish you a lot of strong thoughts to go through.
Love from switzerland   Georgette
■イギリス柔道協会ヘッドコーチのPatrick氏から
Dear Friends,
We are following the terrible tragedy of Japan on internet and television.
We are very worry and we want to say good luck to all of you.
Today the French Embassy also said to French residents
to leave Tokyo and to move to the south of Japan
because of the risk of an explosion in Fukushima.
We hope it is not the truth.
And we hope that you have the right news
about the real situation of Fukushima nuclear centre
Good luck and take care!   
Patrick ROUX   Head Coach  British Judo
■ロシアナショナルコーチ Valeriy Voztrikov氏から
Today I returned from Swiss Judo Open and have spoken with mr.Rakhlin.Well,
from him and myself I'd like to express to mr. Yamashita
and all of you our commiseration connected with disaster in Japan.
All of us pray for theJapanese and ask God to stop any trials for you.
Hope you will pass this misfortune because you are clever and strong people.
Sincerely yours,    Valeriy Vostrikov
■オーストラリア柔道協会 Peter Harmann氏より
I would like to express my deepest sympathy for Japan as country and
for all Japanese who suffer as a result of the terrible earthquake.
I am convinced that your country will recover as Japan
is known for a Great Discipline, Hard Working People and Great Spirit .
Please give my regards to my friends.
Kind regards , Peter Herrmann
■イタリアFunari柔道クラブより
This e-mail is just to let you know that we are watching,
as all the world is doing, your terrible situation from TV news.
Here, we really don't understand which is true and
which is wrong but sure we have seen all the videos
and pictures from the net and TV. We are so sorry and sad for that.
If it could be something we can do for you, please write or advice us as you prefer.
We will be glad and honoured to giving you such kind of help.
Best wishes. Judo Club Funari

◇ ◇ ◇ ◇ ◇ ◇ ◇ ◇ ◇ ◇ ◇ ◇ ◇ ◇ ◇ ◇ ◇ ◇ ◇ ◇
今日までに本法人宛てに届いたメッセージの一部を紹介させていただきました。
返事を出すたびに、皆さんの熱い気持ちにどう答えようか・・・
私たちは心のそこから感謝の気持ちを伝える事しかできません。
今、正に柔道の精神、『自他共栄』の気持ちを忘れることなく、そして世界の柔道の仲間の
温かいメッセージを心に留めて、被災者の方々に私たちが何ができるのか、考えたいと思います。
最後に暖かな電話メッセージもいただいております。いただいた方のお名前を御紹介させていただきます。
☆アナトリー・ラフリン・ロシア柔道連盟女子監督
☆ワシリー・シェスタコフ・ロシア国家院議員 
☆ミハイル・チホミロフ・国際サンボ連盟名誉会長
☆ハビリ・ビクタシェフ・柔道元ヨーロッパチャンピオン 
☆ユーリー・トゥルファノフ・サンクト・ペテルブルグ・マスターズ柔道連盟会長
その他多くのロシアの柔道家からいただきました。